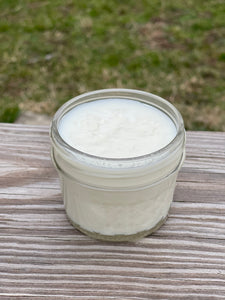 1 mini sample size 4oz Wickless Candle (to be used with a warmer) This is my version of a safe paraffin free wax melt that is contained in a jar. (These candles DO NOT have wicks!!)
•Details•
Our hand poured candles are made from 100% soy wax, no additives, toxins, carcinogens or pollutants. Which means our candles are less likely to trigger allergies. And no petrol-carbon soot like you get from petroleum based paraffin candles. They are all natural, environmentally friendly and longer lasting. Soy wax burns cooler which means you can enjoy your soy wax candle 30-50% longer than a paraffin candle.
We use clean phthalate free fragrance oils that are infused with natural essential oils to make up these amazing scents. 


-For optimum scent, turn off warmer and let wax harden daily. Then remelt
-Handle with caution, candle warmer, melted wax and jar will be HOT!

-Keep out of reach of children /pets                                                                                                                     
-Never leave a melting candle warmer unattended. 
-Melt candle on a level, fire resistant surface.