I had the amazing opportunity to do 2 live segments on Fox 8 New Day Cleveland! Watch it here!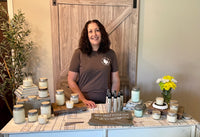 WELCOME!
We are proud of the fact that we take the extra necessary steps to create a product that is truly 100% soy wax so you can rest easy knowing that our products are safe for your home, you, your family and your pets.

All " soy" candles are not created equal. We pride ourselves in not just using the lingo "soy wax" to get your business. We work to create products that are pure soy wax making them free from pollutants, toxins, paraffin and phthalates.
As the heart of the small business, thank you for choosing The Old Rusty Coop! Love, Amy
Hand Poured Pure Soy Wax Wooden Wick Candles
Our hand poured candles are:
~Made from 100% soy wax, no additives, toxins, carcinogens or pollutants. Which means our candles are less likely to trigger allergies.
~They are all natural, environmentally friendly and longer lasting. Soy wax burns cooler which means you can enjoy your soy wax candle 30-50% longer than a paraffin candle. 
~We use wooden wicks, they burn wider and slower than a standard wick. They flicker and crackle while they burn, it creates the unique feeling of a mini campfire in your home.

~We use phthalate free fragrances that are infused with natural essential oils to make up these amazing scents.
Hand Painted Wood Signs
Our signs are:
~hand painted on real wood with wood grain, knots etc making each one unique.
 ~They are lightly distressed to give them a somewhat aged look and finished with an indoor/outdoor matte varnish.
~They are sure to give you that one of a kind touch.  
Please Note: All packages are shipped via UPS which does not deliver to P.O. boxes. Please use a regular address. Thank You!
Enter Discount Code LOCALPICKUP to Remove Shipping Fees From Your Order For Local Porch Pickup
 I love her craftsmanship! Her works are truly an art. Ive gotten a few signs from her and they exceed all expectations! Super awesome maker!

Mike Tabanji
Absolutely amazing! The smell is so pungent and fills up my whole house. With other candles I've tried, I could never really smell them. But I have no issue smelling this one! I Definitely recommend the snickerdoodle candle. They also included a small bonus candle in the package too, which made me super happy. My fiancé is absolutely obsessed so needless to say, we will be buying again! Thank you so much! 

Alexandria
I never leave empty-handed! Delightful hand made products from delightful local vendor! Win-win!

Susan Cairns
Candles from The Old Rusty Coop are the best! They smell amazing and are truly safe for pets and family. 10/10 recommend!!

Dawne Howard
I consider myself a candle snob and have purchased candles from many other companies but yours are absolutely the best! Yours will be the only candles I buy from now on!

R. Burke